Justfit Pirato, the lightest professional EMS device in the world
As you know, the fitness industry and even EMS industry have seriously been affected by the COVID-19 crisis and a lot of studios had to be wound up. Something that you never ever want to face again, right?
But who could tide over the hard times?
Those, who had enough financial reserves to survive the loss of income for several months;
Those who could flexibly adapt to the new rules of the game by going online or offering one-to-one personal training.
Therefore, just as Nissan practically invented the crossover class in car industry, Justfit came up with the future-proof concept of a professional mobile EMS device in Q3 2020.
The Justfit Pirato is the Nissan Qashqai of EMS technology. A unique concept with a unique product. An EMS device for those who want to be prepared in case another crash happens.
The solution for farseeing fitness entrepreneurs who know that flexibility and quick reaction are essential to remain on the surface of the fitness industry.
Pirato comes with durable EMS suits for studio use
Flexibility in any case
Whether you use the Pirato in-house or outdoors, you and your clients get the perfect EMS experience.
The Pirato equipment can be used as a portable EMS kit that PTs can take with them to the location of the training. No heavy stuff, the complete kit fits into the Justfit Sports Bag that is included in the package.
The wireless EMS technology with Wi-Fi communication makes it possible for trainers to keep the training with only a tablet in their hands while clients enjoy the freedom of movement only wireless EMS can provide.
Aura PIRATO, the professional EMS business management software
The Justfit Aura PIRATO is a uniquely developed online, cloud-based software. You can access the information of your Justfit system with only one touch and get up-to-date with all your relevant data conveniently anytime, anywhere.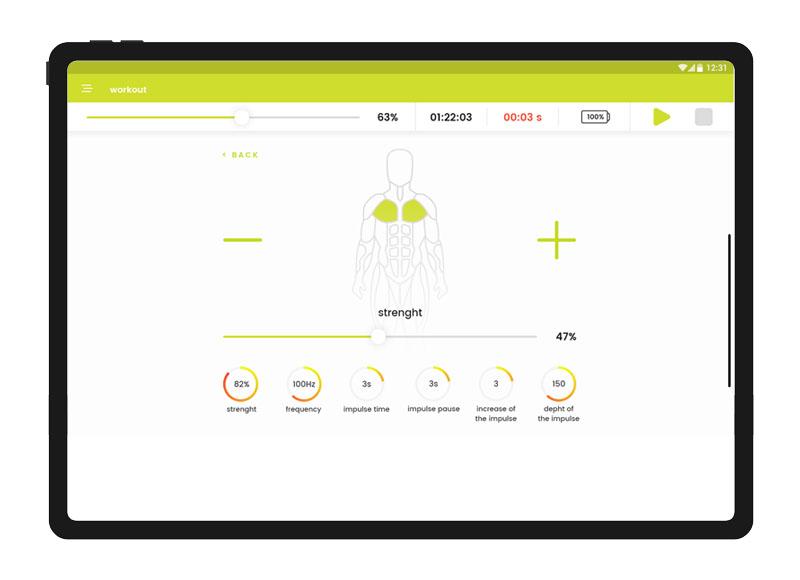 Aura Pirato EMS studio software
The advantage of the cloud-based solution is that your client information, training records and other data are available on all of your devices, so you never lose critical client information.
The software comes with built in training programs: weight loss, strength, cardio and massage. It includes 11 stimulation channels, the values can be adjusted on each muscle group separately or simultaneously and the following parameters can even be fine-tuned: impulse time, pause, depth, frequency, increase and strength.
An utmost convenient feature is that you can save your clients' default settings in every mode and add your comments after the training session.
Using the Video Training Mode allows trainers focus exclusively on the client. The 3D animations are based on industry-leading 3D scanning meshes. Just follow the on-screen instructions and start your workout.
The video trainer allows you to create your own training programs. Just drag and drop exercises to create diverse training plans, set the impulse time and pause and add the number of repetitions to each exercise.
You can even mirror the screen with Chrome Cast or Apple TV for a broader experience (large TV or projector).
Hardware
The kit contains the following hardware: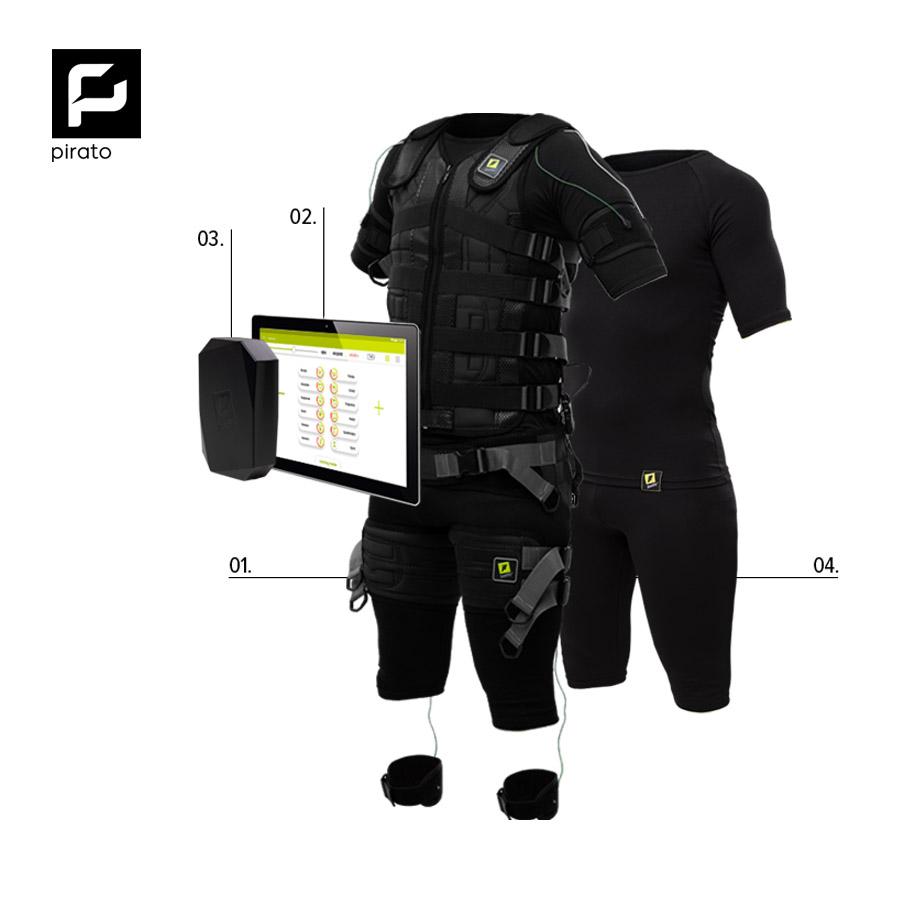 Justfit Pirato mobile EMS kit
01. Click-on Professional training suits (3 pcs, S, M, L)
02. Justfit Aura Pirato tablet software (Android/iOS)
03. Click-on control unit (1 pc)
04. Underdress (12 pcs)
Who can benefit most from the Justfit Pirato EMS device?
The Pirato is both a studio device AND a mobile EMS kit. You'll practically get a mobile EMS studio that you can take with you anywhere and enjoy the freedom to have your services in-house or outdoors.
We recommend it for
fitness studios
gyms
beauty salons
health centers
personal trainers.
It is the perfect choice both for personal trainers and fitness, health and beauty facilities to start up their EMS business with a very low investment.