COVID 19 - opportunities for EMS business
EMS preacher
Hi my name is Szymon Bartoszek and I would like to share with you my experiences regarding the EMS business.
From skeptic to fan - how EMS has changed my professional life
I discovered EMS in Germany back in 2011. At first, like most people I was very skeptical about this form of "training" but after the first session I knew that EMS technology is something that needs to be implemented in Poland. I decided to be the guy who will introduce EMS to the Polish market. In 2012 I opened the first EMS studio in Warsaw called 27minutes. Since that time, I have been running studios successfully in different locations, I became a distributor of one of the best EMS devices and I also started sharing my knowledge of EMS as a Master-trainer.  
After almost 9 years in the EMS business I decided to help out everyone who wants to join the EMS family and somehow use this technology in their life or business. I'm very happy that this sector of fitness is growing expeditiously in Poland and many other countries worldwide, but I'm very aware of the mistakes that can be done on the way to becoming a successful EMS studio owner. I hope that my knowledge in the form of articles and vlogs will be useful guidelines for all of you wanting to enter the EMS business.  
COVID has affected the whole fitness industry
2020 was a very hard year for everyone. Not only personally but also businesswise. The sudden change of our day-to-day life has changed the way we see our reality and how we run our businesses. Some companies unfortunately lost everything and had to declare bankruptcy. And the ones who stayed on the market were forced to rethink their business strategy, minimise costs and find a way to survive in these uncertain times.
In most countries gyms and fitness clubs are closed. At the beginning of 2020 everyone hoped it would take three months of lockdown and after that everything would return back to normal. But believe it or not we have already passed the one-year mark since news from China on the virus was first published.  


Might COVID-19 be beneficial for the EMS industry?

Since the situation has not changed and no one knows how long restrictions will be in place, I started to think about the fitness industry and how it's going to look after COVID-19. What changes can we observe? In some ways, might COVID-19 be beneficial for the industry? May the current situation be good for the EMS market?  
After discussing the situation with distributors and business owners from around the world I have to say that the EMS situation is not as bad as you might think. Why is that? Well, let me tell you how it looks from my point of view. 
Fitness locations can be divided into two groups: 
big fitness studios offering group training, having a huge number of customers and participants, and 
smaller personal training studios. 

The winners of the restrictions
Due to sanitation challenges, big and crowded gyms were closed while smaller places offering one on one training have been allowed to stay open.  
Most of the EMS studios work in the well-known one on one training system which is customer friendly and easily meets the sanitary restrictions. 
In Poland for example the number of EMS micro studios has risen significantly in the last year not only because awareness of the technology has grown but also because it's easy to maintain and it's much cheaper than owning a fitness studio. And one of the things that the last year has shown us is that during these challenging times, businesses need to avoid all unnecessary costs.  


EMS training: an optimal answer to the lockdown
More and more clients are looking for fast and effective training. During the lockdown people have been working from home offices. Schools and day-cares are closed so parents are not only working from home but have also become teachers. Our lives have changed so much that most of us don't have time to go to the gym anymore and even home training can take too much time. In this situation a good solution is EMS training.  
Another aspect of the lockdown is the fact that big gyms had to let go of many employees and personal trainers. Not being able to work and serve their customers, the trainers are looking for other ways to make money. 

How can EMS help? 
Well training from home and through video is getting more and more popular. The trainers cannot only sell home based devices but they can also buy EMS equipment made specially for home visits.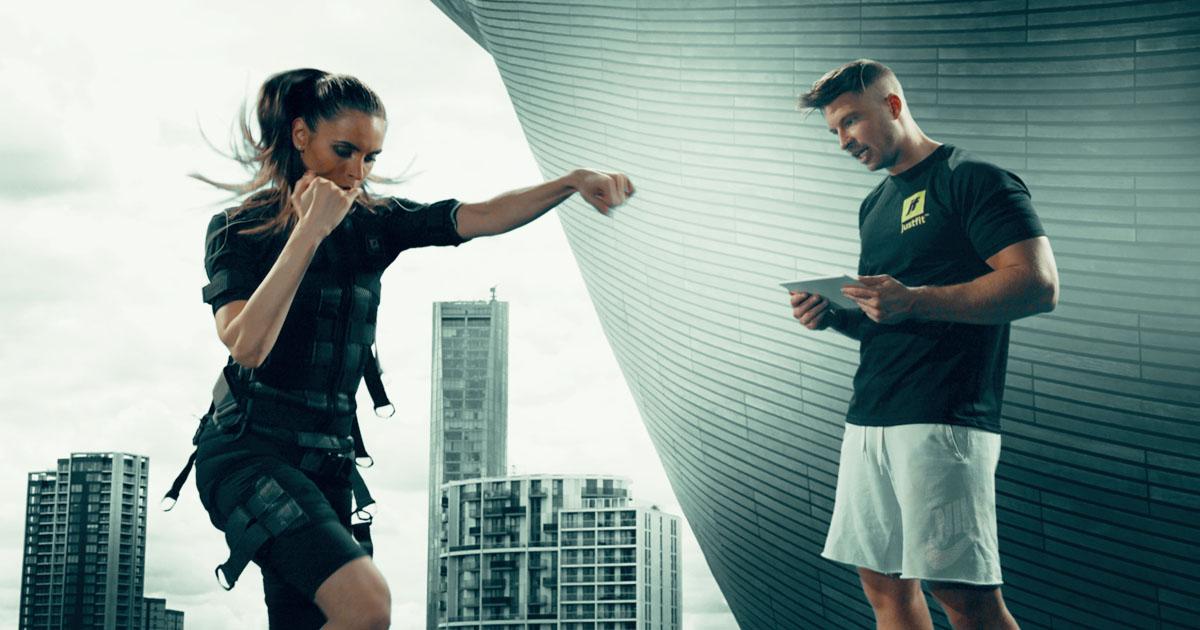 The answer of creative EMS manufacturers: get mobile!
EMS manufacturers have been very creative lately and even the oldest companies have introduced some new ideas. Even though companies like Miha Bodytec or Xbody had mobile devices and the option to take the machine to the clients' home, there was a need to create something much lighter and much more accessible. 
Companies like Innline, Xbody or AQ8 have started to work on tablets to offer trainers easier ways to operate the device. Most EMS devices on the market work with the same frequencies. So how will people know how to choose the right device for their business model? What will make the real difference? To answer that we need to look closer at all the "extras" offered by the manufacturer.  
Doing my research, I got to the conclusion that what is needed is not only a device and software that is easy to use, but a holistic solution for trainers and clients. More and more people are aware of EMS technology and the lockdown and video training have shown us that people want to work out, they want to take care of themselves, and they want to stay healthy. But what does a product look like that will be used not only by trainers but also by the end-users at home. The company that has found the best solution is Justfit. 
The No. 1 EMS solution: Justfit (and I'm also telling you why)
Not only has this company created a product for studios that is operated from a tablet but they have also created EMS devices that can be bought and easily operated by our trainers remotely. After nine years of running EMS studios and working on different devices like Miha or XBody, I can compare these technologies and I have to admit that Justfit earns the number one spot. 
First of all, wireless technology has been there from the very beginning. The control units are very important for the client, they need to be small and light so they will not affect training. Justfit control units are the size of an iPhone. 
The studio suits have been stripped of any unnecessary material and special electrodes make them very light and easy to put on. The software is utmost user-friendly and the Aura system allows you to operate the studio from your home.  
What is more, Justfit created a home use EMS device called JustfitMe. With the new skin-suit and user-friendly app, clients can use the suit in the comfort of their home and control the small, lightweight unit with a smartphone. With this device you can be totally free and combine it with any type of sport and discipline.


Will EMS home training take away clients from the studios?
Someone might say this is not a good solution for trainers and that home devices will keep the clients away from the trainers. But if you know anything about the service sector you know that the client needs not only the service itself but also the company of other people and the help of a professional. 
With this in mind we can see a lot of opportunities for trainers, not only can they use studio devices but they can sell skin suits to the clients giving them the opportunity to use EMS at home or outside, creating online training sessions and EMS groups that will help to grow the awareness of technical and health benefits that EMS provides.  
In conclusion I truly believe that even though 2020 has been a very hard year full of disappointment and loss for a lot of people, I see a bright future for the business of EMS and fitness in general. This is the time for new solutions and new business ideas. 
In these hard times trainers should take advantage of the situation and start their EMS business not only because it's a new technology, not because the business is easy to enter, but because there are tons of people who - despite the health restrictions - need and want to stay healthy and to stay in shape.